New service
Over 4,000 new standard components in Elesa's new product supplement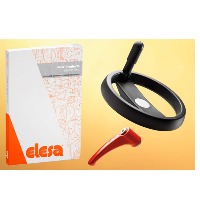 This 240+ page
166.1 catalogue supplement
from Elesa complements their main index with 4,268 codes for new products and range extensions.
Product categories include: handwheels and crank handles, clamping knobs, clamping levers, lift and pull handles, fixed and revolving handles, control knobs and levers, position indicators. The extended product range also covers: indexing elements, machine components, levelling feet, hinges, latches, hydraulic accessories, castors, connecting clamps and special handles.
Taken together, the 166 catalogue and the 166.1 supplement deliver a massive 44,000+ standard machine components for manufacturing industry.
Both the 166 catalogue and the 166.1 supplement can be requested via Elesa's
media and service link
.