New product
Ultimate Access Control Solution For Healthcare Facilities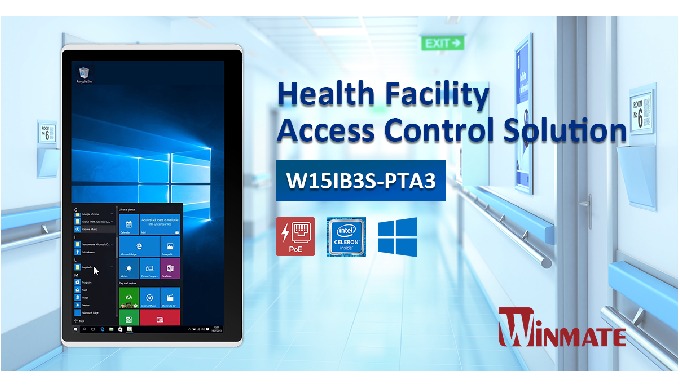 Start date: April 14, 2022 4:00 AM
End date: April 11, 2025 3:12 AM
Clinic and Hospital Security Challenges
In a healthcare environment finding a balance between taking care of the patient and being open to family and friends is one of the priorities for security and facilities personnel. Formal access control measures help to limit ingress and egress. A good access control platform should use an open database and be able to link to other systems. With no doubt, the reliable access control security system is one of the best investments a healthcare organization can make.
Winmate offers the 15.6" PT Series Multi-Touch HMI
W15IB3S-PTA3
for a hospital access control solution. The solution for all the needs of patients, visitors, and health facility administration staff in hospitals, clinics, and healthcare institutions. Our complete, integrated, customizable solutions can be brought together from a wide range of hardware products to provide next-generation solutions with centralized management and monitoring systems to hospital complexes. Apart from its primary security function, the access control devices can collect and manage data. These data are stored in a central database, available for managers to review and adjust access control policies or completely lock down the facilities quickly. Looking toward the near future, security device makers expect to deploy and refine access control solutions with fast-advancing technologies like facial recognition. Winmate can customize access control HMI panel PCs with a front camera, RFID reader, and other modules to offer the future-proof access control solution.
Access Control in Hospital Security: Key Benefits
Flexibility
- Adjust the access rights based on numerous characteristics, add new staff or immediately remove former employees from the system, eliminating the possibility of a threat.
Versatility
- Integrate additional components and products such as video surveillance, facial recognition, and other technologies to enhance security.
Trusted Access
- Grant access for the right people at the right times – allow only personnel in-charge at a particular floor or area to protect patients, medical files, or controlled substances; communicate restriction rules across healthcare facilities quickly and efficiently via an easy-to-use interface.
Lockdown Capabilities
- The access control and security management systems can lock down portions of a hospital or doctor's office during non-office hours or to lock rooms that might store valuable patient data and medical files; this is especially valuable in the event of an emergency when there is a need for a quick lockdown.
Did You Know?
Utilizing an access control solution enables hospital security officials to break down the facility's overwhelming size into controllable, role-based zones that come together within one common platform. Access control encompasses not only main entrance doors, but also internal entrances and exits based on location and access level — meaning all methods for going in, out, or throughout the facility can be actively monitored.
A Closer Look: Access Control HMI Panel PCW15IB3S-PTA3
✔
EASY-TO-INSTALL
✔
VERSATILE
✔
SECURE
Why Choose Me?
The
W15IB3S-PTA3
is a purpose-built panel PC HMI for access control applications that feature a stylish design and powerful processing — engineered to take access control to a new level of convenience. The
W15IB3S-PTA3
features a brilliant 15.6" screen with 1920x1080 resolution and projected capacitive multi-touch to provide patients, visitors, and healthcare facility staff with accurate and sharp images and offers a user-friendly interactive touch interface.
Highlights
-Intel® Celeron® N2930 (2M Cache, up to 2.16 GHz)
-Windows 10 IoT Enterprise/ Linux Ubuntu 18.04
-15.6" 1920 x 1080 with PCAP touchscreen
-Fanless cooling system and ultra-low power consumption
-A true flat, easy-to-clean front surface with an edge-to-edge design
-Front IP65 for protection against water and dust
-Peripheral connectivity: 2 x Giga LAN RJ45 ports, 1 x USB 3.0, 1 x USB 2.0, and 1 x RS-232/422/485
-Plastic housing
-Optional PoE: Power Device (PD), follows IEEE 802.3at (25 W)
About Winmate
Winmate Inc. is a rugged computing and embedded solutions provider for industries operating in some of the most challenging environments. Founded in 1996 in Taipei, Taiwan, where its headquarters, research, development facility, and production lines are located, the company has offices and service centers worldwide. Winmate develops rugged industrial-grade computing solutions that advance the Industrial Internet-of-Things (IoT). Industrial display and panel PC, HMI, embedded systems, IoT gateways to rugged tablets, and handheld devices for industries ranging from transportation and logistics to marine and military, railway, oil and gas, smart grid, healthcare, and field services. Winmate also provides professional services in customizing products and project management to create a unique customer's needs.
For more information, visit
www.winmate.com
.