New service
Industrial Panel PC on Food & Hygienic Industrial Solution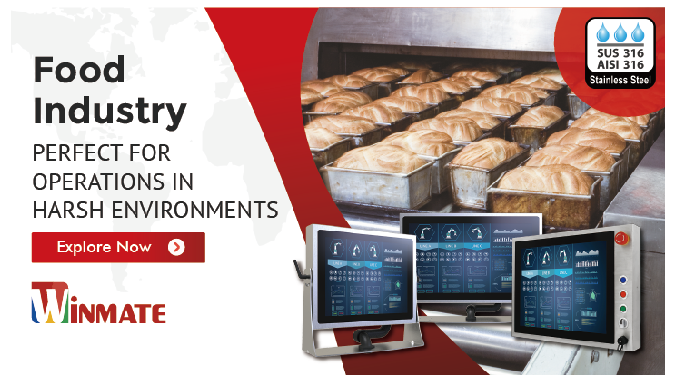 Start date: May 10, 2022 9:26 AM
As a pioneer in rugged computers and touch panel technology, Winmate has always predominantly relied on high-quality materials for its products. We offer you a wide selection of fanless panel PCs to fulfill specific hygienic and mechanical requirements from the front to the all-around IP65, IP67, and IP69K fanless panel pcs.
Industry Challenges
Whether it is the actual processing of the food or the food packaging, automation is everywhere in today's modern food plants. Plant floor automation helps keep costs down and food quality up. The stainless series was developed for food processing, packaging, and pharmaceutical industries, where there is a need for water-resistant computing capabilities that can withstand daily washdowns to keep a clean food production facility.
Rigors of factory floor operations
HMI and industrial Panel PCs for the factory floor operations should work in changing dust, water splashes, and humidity.
High hygienic requirements of specific industries
Some industries have strict hygienic requirements. Machinery, industrial displays, and factory floors must be cleaned with high-temperature water or chemicals.
High pressure and high-temperature washdowns
Due to the food industry's high hygienic requirements specifically, food processors and computing tools are subject to high pressure and high-temperature washdowns.
Corrosion resistance
Industrial Panel PCs and HMI installed in a food processing or chemical factory floor are often wet, dusty, and repeatedly cleaned with aggressive chemicals that can easily cause corrosion. That is why SUS 316 / AISI 316 stainless steel material is the first choice when it comes to product design.
User-friendly intuitive interface
The interface of HMI monitors should be simple and user-friendly for the operator.
Overview
Winmate Stainless Series Panel PCs combine an elegant design with a rugged build for industrial food, beverage, and pharmaceutical applications. Embrace flexible mounting options, high performance, and IP69K/IP65 standards for ultimate water and dust resistance. The stainless-steel alloy is corrosion-resistant to meet specific industrial health and safety requirements.
Winmate hygienic industrial solutions include:
IP65 Stainless B series with Pushbuttons
IP69K Stainless P series Panel PC
IP69K Stainless PCAP Chassis Panel PC
IP65 Stainless PCAP Chassis Panel PC
IP65 Resistive Chassis Panel PC
IP67 Resistive Chassis Panel PC