5 Axis CNC Router Machine
- Product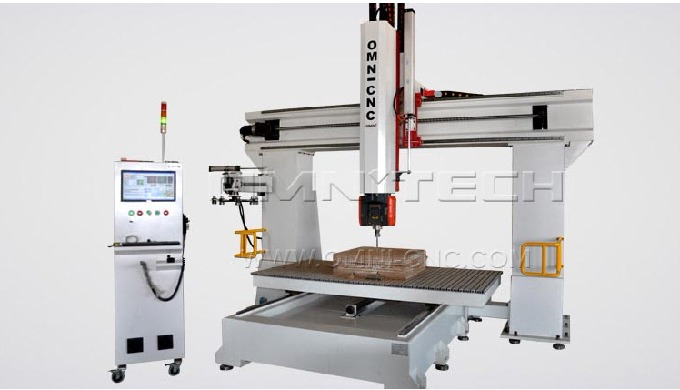 The OMNI 5 axis CNC router is with an extra heavy duty gantry and machine table for maximum rigidity and strength to provide high-speed machining in all 5 axis. Due to the flexibility of the OMNI 5 axis machining centre it is commonly used for mould making, machining moulds in wood, resin tooling board, EPS and composites, trimming of vacuum formed
Description of the Product
The OMNI 5 axis CNC router is with an extra heavy duty gantry and machine table for maximum rigidity and strength to provide high-speed machining in all 5 axis. Due to the flexibility of the OMNI 5 axis machining centre it is commonly used for mould making, machining moulds in wood, resin tooling board, EPS and composites, trimming of vacuum formed mouldings, plastic fabrication, GRP machining, props and model making, profiling, solid surface machining and contouring, various large metalloid mould, especially suitable for automotive foam mold, wooden ship model, wooden model aviation, rail wooden mold, wooden mold train. Instrument industry: 3-d surface engraving and shape cutting of large-scale instruments.
5 axis CNC router working Area (in 5 axis): 1100 x 2300 x 900mm and 1200 x 2400 x 900 in 3 axis
Extra heavy duty welded steel frame and gantry for maximum straightness and rigidity
10Kw HSD Spindle
8 position rotary ATC with HS655 precision tool clamping
THK made in Japan lubricated for life linear rails and guide blocks
Imported ball screw on x-axis ensures processing accuracy
Yaskawa servo drivers and motors for high power and speed
Osai – PC interfaced Numerical Control System
T-Slot clamping table
Becker vacuum pump for vacuum clamping fixtures (optional)
Oil Mist cooling system for cutting non-ferrous metals (optional)
3.0Kw Single bag 3-phase dust extractor or 5.5kw dual bag 3-phase dust extractor (optional)
Click
Catalog
to download, and you may curious about
what people saying about OMNI
, and check
what project works Omni users share with us
.
Price of the Product
Price not indicated
Characteristics of the Product
Type

5 Axis

Model

1325

Dimension

4'*8'

Brand

OMNI

Certification

CE

Origin

China
I want to get more details about the product
Company catalogues - OMNI CNC Technology Co.,Ltd

CNC Cutting Machine : CNC Router / Laser Cutting Machine/ Plasma Cutting Machine (English)
36 pages