High tech digital inkjet printing machine for very fast printing on flat wooden, plastic, paper and others | FB of AROJA XORFEX, s.r.o.
Product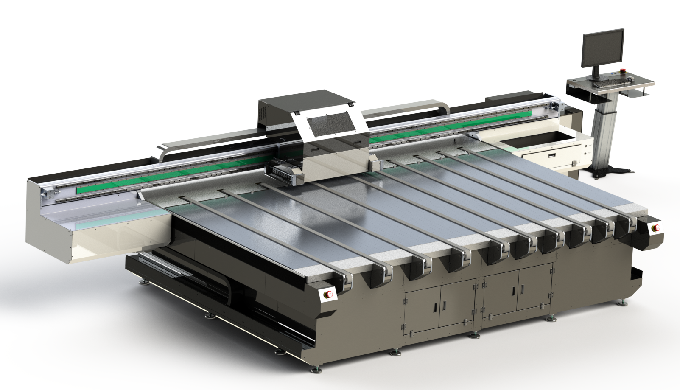 HIGH TECH DIGITAL INKJET PRINTING MACHINE DESIGNED FOR VERY FAST PRINTING ON FLAT WOODEN, PLASTIC, PAPER AND OTHER PLATES MODIFIED TO SPECIFIC REQUIREMENTS ON DIMENSIONS OF THE CUSTOMER.

DESCRIPTION
■ the basic element is an advanced print module fitted with several rows of print heads Koni...
Description of the Product
HIGH TECH DIGITAL INKJET PRINTING MACHINE DESIGNED FOR VERY FAST PRINTING ON FLAT WOODEN, PLASTIC, PAPER AND OTHER PLATES MODIFIED TO SPECIFIC REQUIREMENTS ON DIMENSIONS OF THE CUSTOMER.

DESCRIPTION
■ the basic element is an advanced print module fitted with several rows of print heads Konica Minolta, XAAR or other producers
■ the machine is calculated that the printing process is made by both directions (from 2pass to 8pass) to keep as high productivity and quality as possible
■ printed module is designed as a welded frame with a pull-out print module for easy maintenance and control of the print heads
■ the print is done by several runs over the surface of the stem lengthwise.

TECHNICAL DATA
■ Dimensions of printing item: up to 4000 x 2000 mm (could be adjusted based on customer requirements)
■ No. of channels: up to 8 channels
■ way and productivity of print: bidirectional up to 120 m2 / hour
■ average consumption: 24 ml / m2
■ printing heads: Konica Minolta, Xaar, Kyocera, Seiko, Ricoh and other
■ maximum no. of print heads: up to 32 printing heads


Price of the Product
Price on request
Characteristics of the Product
Type

Flat printing

Model

FB
Category of the Product