Mpacplus Waterproof Case for Mobile Phone mpac Classic
- Product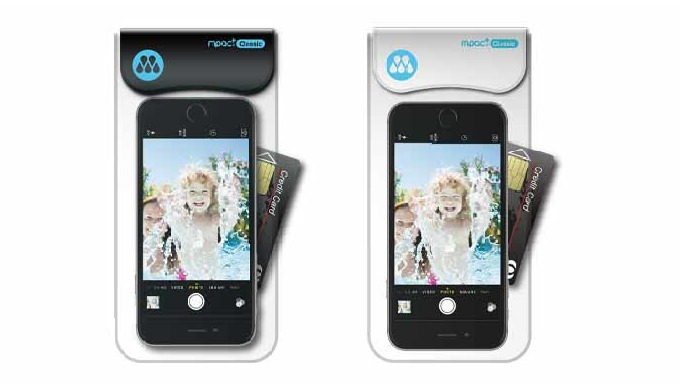 [Product description]
1. Credit card holding function by a card pocket
2. International approval of IPX8(100m/2h)
3. Water activities, leisure sports, travel and etc
4. Compatible with all smartphones under 6.5 inches in length
5. Providing a position holder pad for a smartphone
6. Neck strap: TPU material does n...
Description of the Product
[Product description]
1. Credit card holding function by a card pocket
2. International approval of IPX8(100m/2h)
3. Water activities, leisure sports, travel and etc
4. Compatible with all smartphones under 6.5 inches in length
5. Providing a position holder pad for a smartphone
6. Neck strap: TPU material does nor absorb water, providing a comfortable fit

#Strength
Smatphone screen touch
100m depth waterproof
Provide smartphone position holder pad
IPX8 highenst waterproof grade
Smartphone photo

#Colors
Black, White

#Details
Manufacturing country: South Korea
Manufacturer: mpacplus Co., Ltd.
Material: PVC
Size: 117x210x12mm
Weight: 41g
HS Code: 4202.92-1010
Price of the Product
Price on request
Characteristics of the Product
Type

Smartphone waterproof case

Model

mpac Classic

Dimension

117x210x12mm

Brand

mpacplus

Certification

Waterproof test

Origin

South Korea
Technical Details
- Water activities, outdoor activities, leisure sports, water sports and etc.
- Waterproof for 10 meters underwater
- International approval of IP68
- Credit card holding function by a credit card pocket provided in the waterproof case
- Providing a position holder pad for smartphone
- Neck strap: TPU material provides a pleasant feeling when wearing
- Compatible with all smartphones under 6.5 inches in length
I want to get more details about the product
Company catalogues - MPACPLUS

Seat Cooling Pad (English)
1 pages

mpacplus Product Brochure (English)
29 pages